Planning to buy a keyword research tool and not sure what to do?

I understand as the leading keyword research tools come with a cost 99$ or above per month.

In case you are starting your journey as a blogger or a small business then you must weigh in all the features, pros, and cons of buying a leading keyword research tool.

I have covered most of the things in detail in this article to help you in making a decision before buying a keyword research tool in 2023.
You will find these in the guide
Is it Worth Buying a Keyword Research Tool in 2023?
Yes, it is worth buying a leading Keyword Research tool in 2023. It will give an edge to your keyword research, content marketing along with competitor research. It will also provide you with hidden keywords which are otherwise difficult to discover in minutes.
Time is the most crucial resource while you are working on your small business or a blog.
Isn't it?
The opportunity cost is just too high.
You cannot spend hours just on a free keywords tool like Google Keyword planner which will give only a few free keywords and no insights into the competitor's content & SEO strategy.
Here is an interesting study:
According to a study published on Yahoo, only 63% of small businesses invest in SEO despite having long-term benefits.
And only 40% of small businesses who opted to in a Keyword Research tool or SEO-related Software.
How is this info beneficial for you?
If you invest in the right keyword research tool with effective usage it will give you an edge over other businesses or blogs for sure.
That's the state of small businesses only.
In case you are competing in a space where established players are there, chances are high, it becomes imminent to take the help of the tool, know the search volume, and competitor's content strategy.
And get to the job of generating and executing content and SEO strategy. Fast.
Now, allow me to address other concerns of you related to buying a keyword research tool.
Why is it worth buying a Keyword Research Tool? [aka the Benefits]
There are plenty.
Let's discuss a few most important ones.
#1 Vast Amount of Data
Yes, in free keyword research tools like Google Keyword planner, you only get a handful of keywords.
For example – Assume you are having an HR software company and solving a candidate engagement problem through your software. Now you want to focus on publishing content related to "Candidate Engagement".
Let's do a quick search on Google Keyword Planner on "Candidate Engagement".
As you can see we only have 13 keywords in the list.
If we use the free version of Ahref's Keyword Research tool for "Candidate Engagement", see for yourself.
There are 73 Keywords around "Candidate Engagement", quite higher than the free version of Google Keyword Planner.
If you sign up for the tool then you can get the full list of keywords real quick and make a content plan easily.
#2 Competitor's Research
Free keyword research tools do not uncover a competitor's content or SEO strategy.
You may ask,
why do I even need to look at competitors' strategies or keywords?
Better focus on my own work.
Here is the fact.
In case you are competing in a competitive business, say HR Software or software-related business then your competitors have already invested millions of dollars in SEO and content.
Invested in writers, creating infographics, and ranking for those keywords.
Don't you want to have a detailed look into that cash-generating machine of your competitor?
#3 Site Audit
You can do a quick site audit within your keyword tool.
Why do you need to do a site audit?
Well, a technical site audit highlights various issues like –
Broken links – internal & external
Site performance – Core Web Vitals
Duplicate or Missing Heading, Meta Title, Meta Desc, and more
Other important issues which need to be tackled to rank a website.
If you are into SEO for a long time then you know this is just the tip of the iceberg.
You get all these issues highlighted and bucketed in terms of priority.
It also tells you which issues need to be tackled by whom.
Will it fall in the developer bucket or a marketers bucket?
A keyword research tool will simplify the reports for you so that you can take action immediately on the most concerning ones.
It becomes vital for any organization big or small to prioritize the action items accordingly.
To fasten up the process.
Get to the most coveted first page of Google search result pages.
Here is a sample site audit report.
The above site audit I created for a client using SEMrush.
#4 Long Tail Keywords
When you plan to write content to get targeted traffic from Google you need to be strategic.
Going after high-difficulty keywords with a low-authority website is a tough nut to crack.
It takes a lot of time to write content around high volume, high keyword difficulty keywords as a small business.
Then what's the solution?
Go after long tail keywords with low difficulty.
See the graph below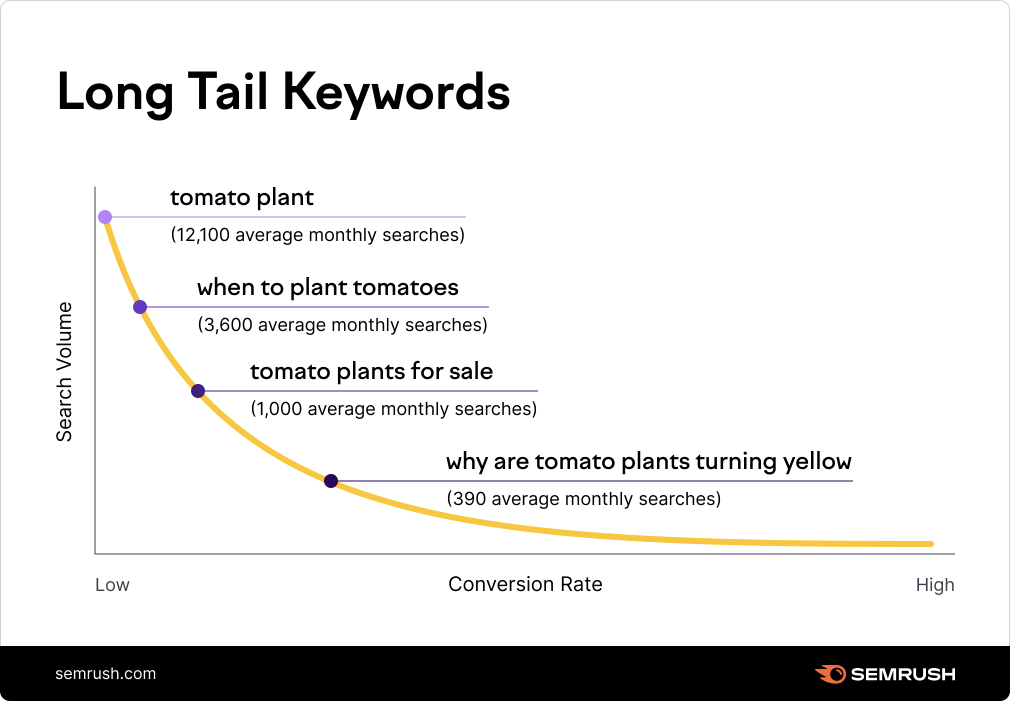 I think it is very well explained in the graph above.
Going after long-tail keyword, and writing content, totally make sense as a Content & SEO strategy.
Paid tools help you uncover these keywords in minutes.
Check this example.
Lets assume you have started a blog in the pet niche.
Now you are looking for ideas and topics to write about.
You can go to SEMrush and give a seed keyword. Here I have given "Dog" as the seed keyword.
I sorted according to Keyword Difficult from Low to High and quickly found the keywords.
You can see Keywords with decent monthly volume like 390 per month for

"is jaggery good for dogs" which can be a good topic to write about.
In case you want to confirm whether you should go after this topic or not you can search it on Google
You can see in the top 2 results Quora is coming which is a forum site.
This is a huge sign that you can possibly rank on this query on the first page if you have written good content.
You may think how does that work?
Well, that's a separate topic of discussion which I will cover sometime else.
But yes you can uncover good long tail, low difficulty, decent search volume keywords easily with a paid tool like SEMrush or Ahrefs.
#5 You will save Time
Let's face it, we don't have much time when we are in any business.
Whether you are a marketer or an entrepreneur, you are always juggling just so many things.
Isn't it?
Then why waste time going through free tools like Google Keyword Planner or any other tool?
Why not invest some amount of money in a tool and get to the right set of keywords real fast?
Invest that time in fine-tuning the plan for everything like resources to write the content, creating a content calendar, and other important execution stuff.
This will give you an edge.
The amount you will spend is an investment in your small business or your blog.
Do Bloggers or Marketers use paid keyword research tools?
Yes, Marketers and Bloggers do use keyword research tools and many other marketing tools also.
Let me tell you my own story.
I am a Digital Marketing Consultant and have consulted many companies in the last couple of years for SEO, Paid Marketing, Content Marketing, etc.
The keyword research tools have been at the core of the way I operate for various reasons, most of them already stated above.
For shortlisting keywords for the full funnel, creating a content strategy, optimizing product pages with the right set of keywords, running search ads campaigns, and whatnot.
Which are the best paid Keyword Research Tools in the market?
There are plenty in the market that can be used for keyword research.
Here are the top picks.
#1 SEMrush
I have been using this tool for quite a long time and it has been my savior.
You can do a site audit, keyword research, keyword gap between 2 domains, backlink gap, log file analyzer, topic research, and come up with content ideas real fast.
Check this example –
I researched "Interview Scheduling Software" in the topic research section and it gave me 100s of ideas in minutes.
Moreover, I was able to shortlist according to the trending topic.
These are the benefits that give you an edge when you want to do research using a Keyword Research tool.
The basic plan starts at $119.
#2 Ahrefs
This is again one of the best keyword research tools in the market.
Its database is vast and provides more keywords on a seed keyword than other tools in the market.
Many bloggers and marketers prefer this tool to others.
Just like other tools it provides keywords, backlink data, competitors' site analysis, and much more.
The basic plan starts at $99.
Wrapping Up
Long story short, paid keyword research tools are an investment in your business, as long as it provides you with the right set of keywords quickly, do a site audit, competitor's research, and more.
You can pick any tool from SEMrush, Ahrefs, or Moz according to your comfort.
Let me know your thoughts below.